"Don't! Grandma's getting crazy because she can't find rubber bands!" - my cousin Matt after I shot a rubber band at him while we were playing Uno. Ooh. Yesterday was fun. My cousins were up from Colombus again, and we went to the fair. W00t!!11! The Johns pic won first place for pencil/ink age 14-18. That's three bucks for me! 1st= $3, 2nd= $2, 3rd= $1. Hardly any people entered things. Too bad for them. The TMBG maze I made won first for computer graphic art. And a collage I made of icons, really similar to my background got 2nd. I got 21 bucks all together. Now, what TMBG-related thing should I buy? On the way home, my cousin Cassie gave me and my sister an update on Pertunia, her egg shell. And a brief history of their friendship. She found Pertunia in th refrigerator, she said. She cut a hole in Pertunia's head and blew her brains out with a straw, which she subsequentially made scrambled eggs out of. She painted her, and the next night they had a sleepover. Cassie did her make-up, and Pertunia did hers by having a brushed taped to her body. Cassie bought her a robe and dressed her in Barbie clothes. They were best friends. One day, though, Pertunia fell out of a purse and broke her head open. She is in a doll hospital in Cassie's bedroom awaiting surgery with super emergency glue right now. I hope she pulls through. *snif* Last night, me and my sister had a Homestar and TMBG drawing spree. Some of hers of TMBG to follow. It was kinda late, and we were tired, or at least giddy. I was laughing so hard as she drew these. It brought tears to my eyes.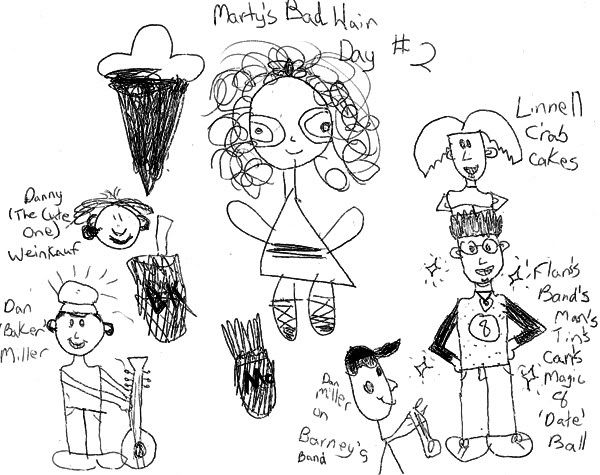 I can't explain these. This one was drawn first.
I have some other pictures of hers and mine. Maybe I'll upload some tomorrow.