I got a TMBG shirt. It's kinda scary. And from their 1990 tour.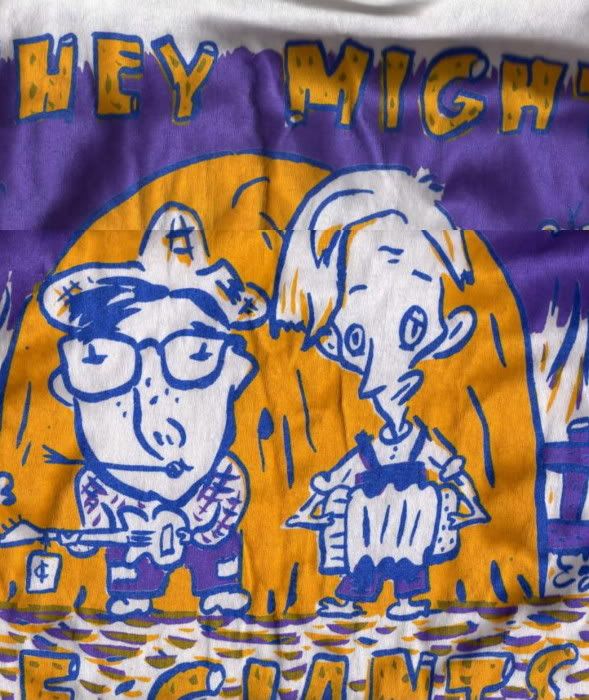 I like it though. But I don't think I'll be wearing it out in... public. I got a The Cheat shirt too; it's the same as my sweatshirt, only it's a t-shirt. And it's blue. And I got an iTunes gift card and some Lightscribe CDs and a cell phone car charger and tons of socks. I'm going over to my cousin's house in the afternoon. Jess got a video iPod! That she needs me to help her put songs/video on. When I'm done with it, it'll be all They-ified. And Abby/Jess got puppies! Two West Highland terriers. Ben and Jerry. Yay, dogs! Their dog Archie got hit by a car about a month ago, when he ws only a year or two old. It was sad. He was a Westie too.
On Saturday
We all went to my grandma's house for gifts/family stuff. We got there at about 3, but we didn't open anything till Sarah got off work, which was 9:30. We ate, played card games, made crossword puzzles, and did fun stuff. Like when we were watching some variety show-ish Christmas special and Cassie imitated the dances and we all tried to sing along to songs we'd never heard before. Pertunia lives still. She is come back to life in the form of a grape. Pertunia Jr. She died about 10 seconds after we named her though. She was eaten. Cassie was dropping grapes in her glass of pop; they'd sink down to the bottom and slowly float back up to the top, then go down again.
Sunday
Me and my family went to church. It was really cool, just singing and people coming up and reading sections of verses about Christmas. And three of the Arnold girls played a bunch of really awesome music on their violins/violas (maybe)/cellos. And their little brother Danny played his trumpet. They are a hughly musical family. No.
Hugely
. Gosh, I do that so much. We went to my school's church later for their Chrsitmas Eve service. Steph/Steve/Josh/Matt sang a song. It was cool.